About Us

Why Scandire?
Introduction
Scandire is located in Lagos, Nigeria. Scandire specializes in eBusiness Solutions, Biometric & RFID Technology, Information Technology, Web development, software research, product development, design, training and other support activities.
Today, Scandire is a well-reputed technology/software development company with excellent track record and years of industry experience. We are recognized experts in the selected areas of eBusiness, Biometrics, RFID, IT, Safetly & Security solutions and make every effort to advance in our skills. Scandire's approach combines professional development methodology and proven project management with favorable rates.
Several projects have been entrusted to us. Our customers have selected us repeatedly because of our proven software development, quality assurance methodologies and testing expertise. Our proven track record assures your project's success. By providing high-quality software, within your budget and time schedule your entire software development cycle can be optimized for cost and performance.
Our core technology research group is abreast of the latest software technologies. We are passionate about leading edge technology and quality and we strive to maintain a dialog with the client throughout the life cycle of the project delivering nothing but the best for every customer.
Our skills-rich professionals, who are up to date with the latest developments in software technology, are very capable of executing projects efficiently. Our Quality policy helps in bringing a commitment to excellence and perfection in all that Scandire does for a client. We offer solutions, which are reliable, stable and bug-free.


Vision & Objectives
To help your business grow
Scandire's vission is to provide significant leverage in meeting the growing IT needs of a global economy by using the latest technologies and innovations to drive businesses. In order to gain these advantages the focus of the organization is placed upon the following objectives:
Selection and performance of highly leveraged, collaborative quantitative applications that lead to excellence and improved cost effectiveness in global ivyglobal engineering practice.
Promotion of better quality standards, process, customer responsiveness, support systems.
Pursuit of outreach programs with national and international industries to improve worldwide safety, product quality, and economic well-being.
Extension of research programs developed by Scandire to other related application areas.


Quality Policy
Our Quality Policy states the following primary goals:
Development of high-quality software systems that comply 100% with customer's demands.
Rigorous and timely fulfillment of every obligation to a customer.
Continuous improvement of development and management processes.
Deep involvement of every employee in the quality management system.
Quality improvement is a permanent process rather than a single action for Scandire. Such improvement is achieved through regular external surveillance and internal audits, thorough review of all business processes coupled with client feedback. We pay special attention to preventing possible problems rather than follow-up error correction.
Our Process
Process is a series of planned and systematic actions needed to be undertaken to attain a target. Various activities assume significance as a typical project at Scandire goes through it s life cycle. A process element usually corresponds to a cluster of activities which when performed collectively and in a specific order, achieves a set of common goals.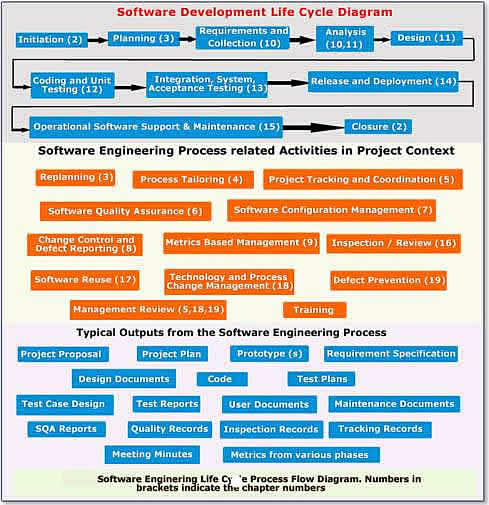 The above diagram gives an overview of the Software Development Life Cycle (SDLC) process at Scandire. The Life cycle activities are supported by a set of continuous activities, which go on at the project level (e.g. Software Quality Assurance, Change Management, Tracking, Software Configuration Management etc.). They are performed at different stages based on the project plan.
There are various work products, which are the outcomes of the SDLC activities. They are listed briefly in the diagram. The sequence and interdependencies of the activities and work products depend upon the project context and the lifecycle model chosen.
References
We actively use IEEE Software Engineering standards and best practices at all phases of software development. Our immediate aim is an implementation of capability maturity model (CMM) methodology in corporate development practice.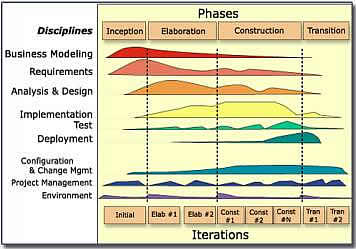 To achieve CMM levels Scandire has taken Rational Unified Process and tools as a base reference, which addresses both, project maturity and organization maturity. RUP uses UML as standard language for modeling software-intensive systems.
The RUP emphasizes addressing high-risk areas very early, by rapidly developing an initial version of the system, which defines its architecture. It does not assume a fixed set of firm requirements at the inception of the project, but allows you to refine the requirements as the project evolves. It expects and accommodates changes. The process does not put either a strong focus on documents or ceremonies, and it lends itself to the automation of many of the tedious tasks associated with software development. The main focus remains the software product itself and its quality, as measured by the degree to which it satisfies its end-users and meets its return on investment objective altogether.
RUP is generic enough to be tailored to a wide variety of software products and projects, both in size and application domain and it is centered around three areas: people, process, and tools or methods.


Advantages With Scandire
By now Scandire has accumulated a sufficient positive experience to define ourselves as technology company that develops software and provide solutions for customers on a turnkey basis. Such projects occupy increasingly important place in our software business. This is due to the fact that a market for these solutions constantly grows since this model of cooperation is advantageous both for customer and contractor companies. Outsourcing development provides better quality of software coupled with cost saving by development process. We have a finger on the industry pulse so a good share of our work concerns Biometrics, Software Development, Enterprise IT, Internet, eBusiness and mCommerce projects.
Principal solutions provided by Scandire in this area are:
Biometrics & RFID card implementations
IT, networking, hardware, software procurement, implementattion and contract programming
Web hosting, Development, eBusiness and mCommerce solutions
Safety & Security Surveillance solutions
Key benefits of working with Scandire
Software development and IT services that suit your requirements the best
We offer bespoke solutions within client's timeframe and budget
Our team comprises top-notch software engineers with excellent education and technical background
Our Quality Management system ensures conformity to international industry standards at every stage
Modern facilities and communication resources that allows you to hold the key of on-going project
Our Expertise in Software Skills
Behind every successful software project, premium design, development and quality assurance testing is vital. Our skills-rich software professionals, who are abreast with the latest developments in software technology, are very capable of making your project a success. Technologies we familiar with are:-
Window. SDK programming - MfC, Win Inet API, lSAPI, MAP], OWL, OOPS, RMI.
Data access methodologies - ODBC, OlE-DB, ROO, ADO, JOBC, Sockets, RS 232-C
Database software development - Oracle Pl./SQL, MS SQL Server 7.0/SQL
Object-Oriented methodologies - Collaboration Data Objects, Outlook Object Model, Business Data Objects
E-Commeece - 2-tier and 3-tier software appiication development
Speech recognition and text-to-speech synthesis agent programming
Network programming and protocols - TCP/IP, HTTP, SMTP protocols. ActiveX control development - OLE, DDE, COM, DCOM, OPC
Webpage design & software development
lmage processing software development - MPEG, JPEG


Our Partners
We have technology partners from USA, Uk, Germany and India.


Success Stories