Document Management Solution
Are you experiencing any of the following problems in your organization/company...
Costly retention of duplicate information?
Costly waste of space to store active and inactive files?
Lack of workflow for electronic documents?
Difficulty in locating documents?
Not purging documents per the UCOP retention schedule?
Lack an archive of authoritative information to inform decision making?
Regulatory compliance issues?
Security issues arising from less controlled access to sensitive documents?
The information environment is not shrinking. The longer a resolution is not put in action, the worse the problem will get and the more expensive the solution will be?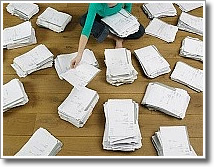 Then TRANSFORM your office to a PAPERLESS ENVIRONMENT using our DOCUMENT MANAGEMENT SOLUTION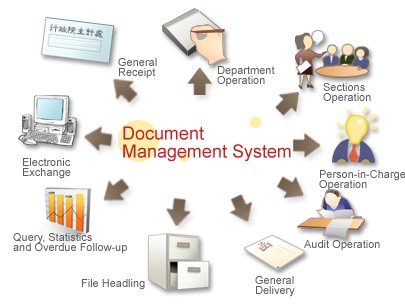 Our Document Management Solution provides two basic office functions. First, it works as desktop electronic archive. In theory, all proprietary documents, regardless of format (including email), are stored in an electronic repository, indexed for ease of search, assigned a retention period and then are made available for use. Secondly, minimizes paper workflows within the office, it would enable workers to create, edit, route and approve documents without using paper.
Our solution involves company proprietary files (business cars, receipts, documents) scanned into searchable electronic formats then automatically stored in a digital filling system on a database - either on a secure server or on the same local computer - and multiple instances of the software can be installed on several computers and/or laptops in various departments and locations along with our unigue document imaging hardware.
Several dccuments can be scanned from different departments and then stored in the database which can be retrieved at anytime from any location using various user roles and security levels.
Transform all your organization's proprietary documents into organized digital files that are easy to use, easy to find and easy to share...
Think of it as a digital filing cabinet—a place to track and manage all your information—except without the paper, or the filing cabinet.

Document Management Software

Our software uses patented "Intelligent Text Recognition" technology to identify and capture key information from scanned documents, then populates that data automatically into the robust digital filing system. All scanned documents are completely keyword searchable, so you'll find your files in just a few seconds - not of a few hours.

Piles of receipts... stacks of business cards... reams of paper. Of course, what we really need is the information trapped inside them! That's why our solution use patented OCR and parsing technology to read and extract key information from your docs, so you can organize, export and securely store it in our easy-to-use database system.

System Requirements

Windows Operating System:
XPVista/7
32-bit or 64-bit OS
1GB RAM or higher
5GB free HDD
Available USB port
.Net Framework 2.0
MsXML6